Here and Now – an intensive improvisation and deepening on clown technique Workshop by Lila Monti
The clown world elapses on the present, it's a constant passage through here and now, even on a sketch or routine a clown must be receptive and available to what's going on at the moment and space where he or she is.
PROPOSAL:
The workshop proposal is to develop listening on the present, to train the ability to transform different stimuli received by the clown into actions, to create games and make them grow, and to train the listening to himself or herself, to the partner and to the audience.
OBJECTIVE:
To deepen and develop the clown technique emphasizing on:
Contact with the audience, the clown's own emotions and the here and now.
Listening to the partners
Development of imagination and game
Transformation of impulses into action
Projection, availability and stage presence
Improvisation from assignments. (solo, duo and trio)
Passage through fragility, failure and joy
Workshopsprache: Englisch
Bitte mitbringen:
comfortable clothing
a clown nose (better red one with elastic)
some costumes, clothes, accessories (scarfs, hats, "jewels", purses, trousers suspenders, belts, etc..) and objects for personal use. And also, some to share.
objects should be "safe" (no glass, no dangerous points, nothing sharp, etc.)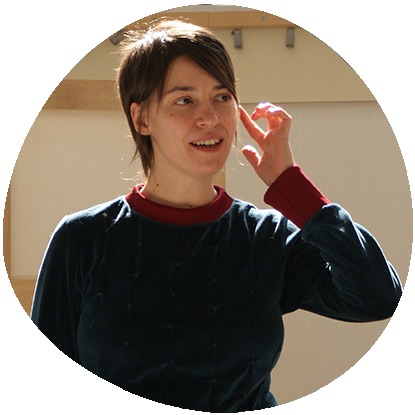 Lila Monti
Lila Monti (www.lilamonti.com) is an Argentinian clown, performer, director, singer and teacher. She studied Clown, Bouffon, Masks, Drama, Singing, and Physical Theater.
She performed in many theatre and clown plays, and some films. She was a member of the Argentinean clown groups Los Papota Payasos Grup and Clowns No Perecederos. She co-created and performed her one-woman clown show Povnia in many theatres and festivals around the world, since 2010. She directed several clown shows.
As a teacher, she offers intensive and regular clown workshops since 2000, in many cities around Argentina, Uruguay, Brazil and Europe, and for different festivals/companies/schools like: Clownin, Die Clown Doktoren, Escuela Los Hijos de Augusto, Cliniclowns ÖO, Klinikclowns Bavaria, Cliniclowns Vienna, Ravensburger ClownSchule, Festival Internacional de Pallasses d'Andorra, Festival Internacional de Pallasses Circ Cric, Ciclo Very Important Woman, Topaklown, etc..